I LOVE YOU!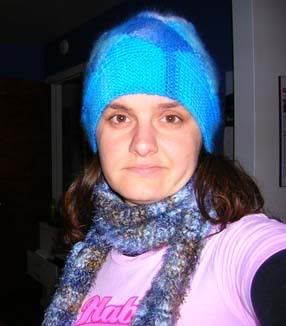 You see me with a weird expression on my face. I'm wearing
Veronik Avery's short row hat
(link is a pdf file). I made it with the recommended yarn. It will be a Christmas gift for my sister.
I'm also wearing a scarf made with acrylic. Yes, acrylic. Red Heart Whirly. And it's soft. Weird.
Oh yeah, and I'm also wearing
my HABS shirt
. Because I'm going to see them play tonight. Against the Maple Leafs. They better win!
My birthday is tomorrow! I'm not expeting any knitting-related gifts, but I received money already so I'll probably buy me something wooly. I'll be 29. I don't like that number.
Finally, I was asked in the comments of my last post which knitting-related calendar I prefer. It's difficult to say (that explains why I got both). The One knitting pattern a day one is nice because it has, well, a lot of patterns. They're pretty simple and the majority are patterns I wouldn't make, but I still like it. The Stitch and Bitch one doesn't have that many patterns and most of them have been published in the S&B books already. So if you want patterns, I wouldn't suggest it. It's still a fun thing to have though.