Ta-da!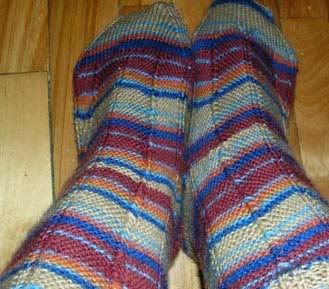 Pattern: Jaywalkers from
Knitty
Yarn: Um. Regia. In one of the Canadian colours.
Needle: 2.25 mm DPNs.
I liked knitting them but for some reason they took FOREVER to finish! I'm glad I have them now, they fit really well and I think the pattern works great with the yarn.
I'm also almost done with a pair of mittens. Expect pictures soon.
Oh and I have bad news : I lost my hat. My beloved short-row hat. I usually lose one hat a year but I really hoped I wouldn't lose this one. I suck.
Last Sunday was my birthday (thanks to everyone who left birthday wishes in the comments). I didn't expect any knitting-related gifts so I was really surprised to get a really wonderful one. My boyfriend's grandmother made me a scarf! It's very simple but it's beautiful and I love it. I've received knitted gifts before but I was younger and didn't know how to knit. Now that I know how much time a simple scarf takes, I really really appreciate it.