I'm taking a break from knitting to bring you this recipe that I tried tonight (a friend of mine gave it to me).

Mango couscous
1 cup couscous
2 tablespoons olive oil, divided
1 garlic clove, minced
1 mango, peeled, pitted and cut into 1 inch cubes (about a cup)
1 jalapeno chili, seeds and ribes removed, finely chopped
1/2 cup raisins
1 ripe tomato, chopped
Juice of 1 lime
1/2 cup loosely packed small cilantro sprigs, chopped
1/2 cup loosely packed small parsley sprigs, chopped
Prepare the couscous according to the package directions. Set aside.
Heat 1 tablespoon of the olive oil in a large sauté pan over high heat. Add the garlic, mango and jalapeno and sauté until the mango begins to color lightly. Stir in the remaining tablespoon of olive oil, the couscous, raisins, tomato, lime juice, cilantro and parsley and toss to heat through. Season with salt.
Serve hot or at room temperature. Four servings.
Since I never exactly follow recipes, I made the following changes:
-I didn't use raisins (didn't have any)
-I used red bell peppers instead of jalapenos
-I used dry herbs instead of fresh ones
-I added chicken
-I estimated quantities for the herbs and lime juice
The result (sorry, I'm no food stylist):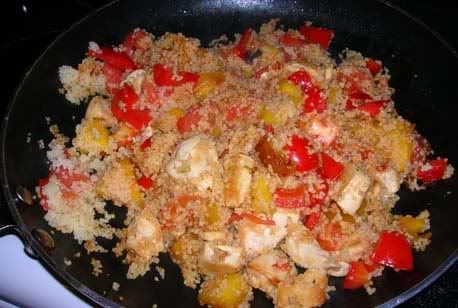 It was pretty good, but next time I'll use more herbs and garlic.