I LOVE 3-day weekends. I usually have Fridays and Saturdays off, but because tomorrow is Quebec Day, I also have Sunday off. Yay! I'm having a fabulous weekend so far. My boyfriend and I bought a couch yesterday. It was our biggest purchase together so far. I also took advantage of the fact that I was close to a H&M store to buy some clothes. I got some cute tops and a black with white polka dots headband. Cute.
Robyn
mentionned a new contest held by
Lotus Knitter
. Thanks Robyn! For that contest we have to show our first FO or talk about the next project in my queue. I think I'll do both.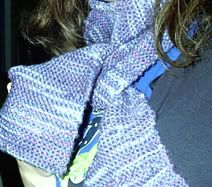 So this ugly weirdly shaped scarf (aka the itchiest scarf ever) was my first project. All garter stitch baby! Thank God I a)fell in love with the craft despite the bad material and b)got better. My second project was already much better I think :
I even chose a much softer acrylic ;)
The "What's next in your queue" is a tougher question. I'm working on two projects right now but I have a couple more on the needle that I'd like to finish before starting something new. That being said, I'm thinking of making this: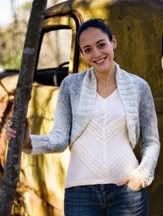 ...because I have yarn that I think would work well with this pattern. And I need something like that for my office, where I'm always cold.
I will also cast on new socks when I'm done with Roza's socks, but your guess is as good as mine as to which ones I'll make. I can think of 4 patterns that I'd love to make right now. So we'll see.
Now, another contest. My Secret Pal hostess
Shelby
tagged her group with this meme:
The rules
: Go to Wikipedia and type in your birthday month and day only. Then post 3 events, 2 births and one holiday that occurred on your birthday, then tag 5 friends.
DECEMBER 3
Events
:
1917 - After nearly 20 years of planning and construction, the Quebec Bridge opens to traffic.
1970 - October Crisis: In Montreal, Quebec, kidnapped British Trade Commissioner James Cross is released by the Front de Libération du Québec terrorist group after being held hostage for 60 days. Police negotiate his release and in return the Canadian government grants five terrorists from the FLQ's Chenier Cell their request for safe passage to Cuba.
1997 - In Ottawa, Canada, representatives from 121 countries sign a treaty prohibiting manufacture and deployment of anti-personnel landmines. The United States, People's Republic of China, and Russia do not sign the treaty, however.
Births
:
1948 - Ozzy Osbourne, English singer
1960 - Julianne Moore, American actress (love her)
Holiday
:
International Day of the Basque language
I tag:
Deawn
Molly Ann
Michelle
Laura
Karine
Now I'm off at the gym for my new Super Workout class!