It's now my favourite part of the week, the part when I realize I really am a slow knitter ;)
Seriously, I feel like I've progressed with my two regular WIPs this week. First, let me present you the pink sock: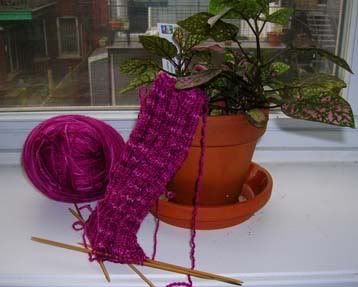 A.K.A. Roza's sock. I have about 2-3 inches more to knit before I start the heel flap. Somehow, I doubt I'll finish them in time for the end of June, but we'll see.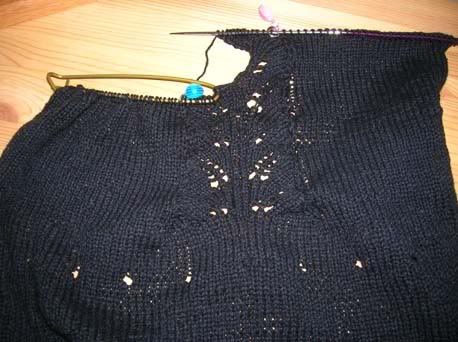 I've also made some progress on Isabella. I'm now at the neckline, at the part where you work half the stitches. It's going pretty well. I was hoping I could finish it before going to my mom's on Friday, but that just won't happen. I know I won't have time to finish the knitting AND seam it. I could if I spent all my free time doing that, but I won't. I need me some Internet time :)
(I'm interrupting this blogging to mention that I currently have a bad case of the hiccups. It's very annoying.)
I'm sure you've all heard about the big
Knitpicks
sale. I hesitated a long time, and then I decided I should get me some yarn to make
Tubey
. I chose Andean Silk, and then I realized that the colours on sale weren't my favourite. I finally settled for Leaf. I put 10 balls in my "stash" (i.e. cart), I added two sock books. And then I decided not to order. I don't know why, I just wasn't sure anymore. And now I'm happy I didn't get the yarn because I find that I would prefer a Chocolate or Pool Tubey. Or something else entirely.
Since I can't make up my mind, I decided to try and find projects for the yarn I already have. I found a lace scarf pattern for the yarn my Secret Pal gave me (it'll be a mini-scarf, I'll just go for as long as I have yarn). And I found a shrug pattern in a past issue of Interweave Knits that would look good with the alpaca I got from a previous Secret Pal thing.
But that Knitpicks Andean Silk is still tempting. I have a colour card and I keep touching it. It's so damn soft. The sale lasts until Friday (if they don't sell everything by then) so who knows. I may change my mind again.