I haven't worked that much on Isabella this past week. But I'm happy to say that I'm almost done with the left front. I probably won't be finished by next week like I hoped I would, but that doesn't mean I won't try.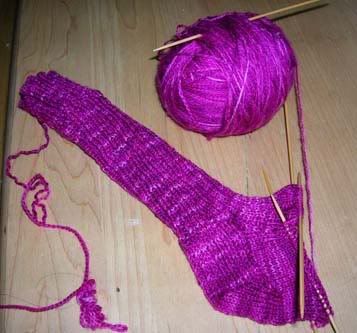 I neglected Isabella because I felt like working on the sock. I turned the heel! The sock looks pretty narrow on the pic but it stretches well enough to fit my big calves.
I realized that working on only a couple of projects at a time means that I'm always showing you the same WIPs. Sorry about that. But while more projects would mean more diverse WIP pics, it would also mean FO pics would come even less often. And I don't know about you guys, but I prefer to see FOs. So this is my goal : to finish Isabella in the next two weeks (I can do that) so I can show you a FO. And then I'll have new WIPs (or old ones that I'll pick up again) to show.
I must say that I've wound
the alpaca my secret pal gave me
into a ball. I have a few ideas for it. We'll see.
I also sort of want to make a very simple scarf for my mom. She gave me yarn last Christmas and hinted that she'd love a scarf made with it. Only problem is, it's acrylic and I know I won't LOVE working with it. But I know she'll love the scarf so I'll make her one.