Remember, in December, I
wrote a letter to Santa
asking, among other things, for some
Lotus Yarn
sock yarn?
Well it looks like Santa heard me! Look what I got in the mail today: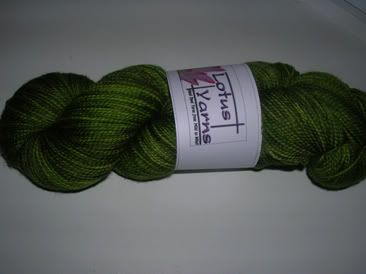 Sorry the picture doesn't do this beautiful yarn justice. It's Nirvana Superwash Merino in Hydroponic. If the yarn looks familiar, it may be because the
Yarn Harlot
herself posted pics of the socks she made with it. I totally fell in love with the colour, but because of the new very tight budget, I couldn't buy it. Thank you so much
Melanie
, you are fantastic!
I think I'm going to use the yarn with a simple sock pattern like
this one (PDF file)
... What do you guys think?
In other news, I have a little WIP report for you. Unfortunately, I have not yet finished my pink mittens:
The picture shows mitten #2. It's almost done, really. I should finish it in the next day or two, depending on if I'm working tomorrow or not (my boss is a bit late with the schedule this week).
The reason why the mitten isn't finished? I've been working on this: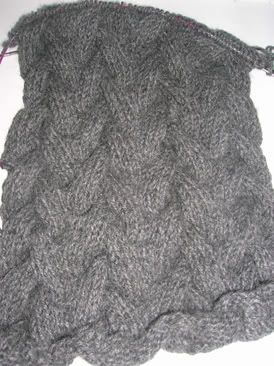 The Woven Cable scarf (I'm too lazy to link the pattern, scroll down a post or two and you'll find it). I'm using the same yarn I was using with the now-frogged Woven Trellis scarf and let me tell you, I like this new pattern so much more! It's very easy to memorize but it's not boring like the Woven Trellis was. I have no idea if I'll finish it before spring, but I'll try!
I gotta go now but I'll be back later this week to answer some questions that were asked in comments. So if you have any question for me, comment!