I had today off and expected a great day but it didn't up being yucky. And it rained all day so I stayed home and knit (that wasn't so bad, I'll admit it).
Last week I cast on for a new pair of socks: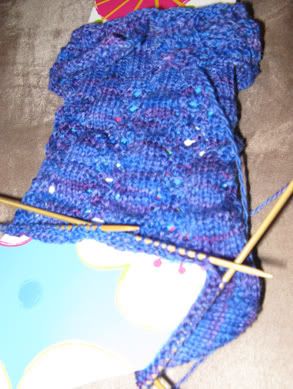 Unfortunately, I couldn't get a good pic and of course the sock hasn't been blocked yet so it doesn't look as good as it will when it's finished. The yarn really is beautiful though, isn't it?
The pattern is
Phlox
by the lovely
Jennifer
. The yarn is from
Biscotte & Cie
. I got the yarn and pattern from
Robyn's nest
(it was one of the sock club kits).
I can't wait till I finish them so I can show them off. I'm thinking they may become a gift for my sister.