That knitting mojo I've been talking about? Yeah it's back. I've been knitting like a mad woman these past couple of days. I'm getting ready to cast on for
Ishbel
on Friday, and in the meantime, I've been working on a hat.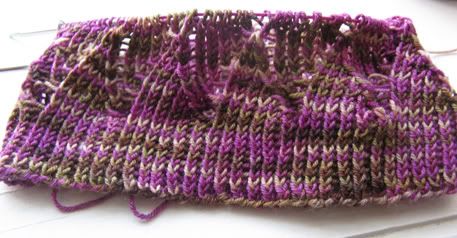 It shouldn't take too long to finish.
I've been hit by startitis. I just want to start new projects. I need to control my self. I'm also sick with "Addittomyravelryqueueitis". I want to make lots of cute scarves and shawls even though I know I won't ever have the time to make everything I want. I even added a Christmas stocking to my Ravelry queue! Crazy. I'm already starting to think about what I want to make for Christmas gifts. I think I'm a bit nuts.
Oh... and startitis usually comes with yarn lust so I put in a small order with Knitpicks. Nothing much, just a skein of laceweight and two of sock yarn. I'm reasonnable right? Right?