You know summer is close when
Skeins her Way
is having her Summer knitting goals contest!
I now consider it a tradition to list my summer knitting goals (even though I've never actually managed to reach all my goals). Anyways, here you go. This summer, I want to knit:
1. The
Ishbel
shawl, of course.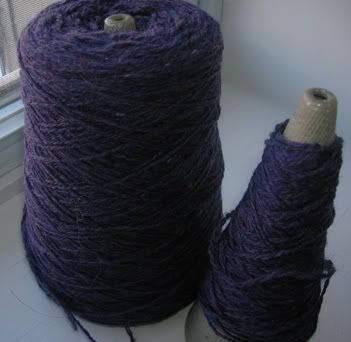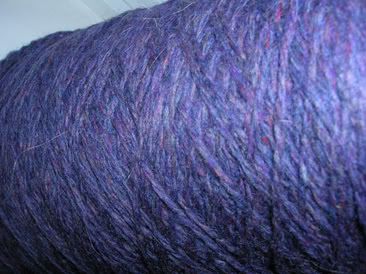 I'm pretty sure I'm going to use the above yarn (wool from unknown origin, that I got for free when
Véronik
destashed. Woohoo!)
2.
Parrotfish/Pomatomus hat
. I actually cast on for it this afternoon, using a skein of Lorna's Lace that I got during a round of Secret Pal. This is going to go to my aunt who'll be undergoing chemotherapy treatments this summer.
3. I'd really like to finish at least one of my UFOs/current WIPs. Believe it or not, I only have three things (not counting the hat) on the needles right now:
Cardigan for Merry
,
Kiri Shawl
and the
Montego Bay
scarf. I'd like to finish one. My money is on the scarf.
4. A pair of socks. I haven't decided on the pattern yet.
Froot Loop
, perhaps. Or a
Nancy Bush pattern
? Or
Spring Cable
? We'll see.
That's it for goals!
In other news, I realized that we can now organize our queue on Ravelry. How long have we been able to do that? I've been using tags for a while so I could just search "socks" when I only want my queued sock patterns, but now we have TABS! How cool! I have almost 300 items in my queue, so I need organization!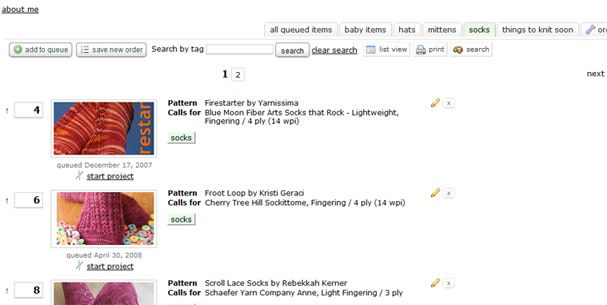 See? I now even have a tab for "things I want to knit soon" (Ishbel and Parrotfish are in it). Very practical. Ravelry is the best!
Ps/The Phlox socks are currently blocking! Pics soon!