This post is brought to you by the word SOFT!
It's been 11 days since my last post (sorry!) and I got a lot to talk about. I've kind of gone crazy with my credit card (well crazy for me, I know some people are a lot worst). But before I get to the yarn porn, let me show you the current WIPs.
First, a sock of course. Cookie A. is the designer of the month for the Sock Knitters Anonymous challenge, so I figured it would be a good time to knit something from her fabulous book, Sock Innovation. I chose
Kai-Mei
because it's the one that had first caught my eye when I got the book. Here's the first sock in all it's unblocked glory:
Let me tell you, this picture definitely doesn't show the beauty of the sock. But I like to save the sock blocker pics for the finished pair.
Also, I'm someone who's usually late to the party and if there's a trend, I'll probably end up following it... two years after it went out of style. I find the same thing happens with knitting. In fact, I'm currently thinking that maybe I should make a Clapotis. ;) I'm saying that because my Kai-Mei are made with Socks that rock, and yes, it's my first time using it. And I LOVE it. I just love the fabric it makes, it feels sooooo good on my foot. *sigh* I'm sure that in 5 years, I'll tell you all about my love of Wollmeise... ;)
Ok, WIP #2. Believe it or not, I'm making a cardigan! I haven't made a garment in a long time and I hope that I'll finally make one that I actually want to wear. The fact that it's seamless will help. It's made of laceweight so it's not a quick knit, but here's the little bit I had done a few days ago:
It's the
Honeybee cardigan
and I'm using Knit Picks Gloss in Bordeaux. The yarn is very very soft and I love the colour. Funny thing: the Honeybee stitch pattern is very similar to the pattern on the foot of my Kai-Mei socks.
Ok, now I give you YARN PORN!
After looking many many times at
SlackFord Studio
's web page and hearing good thing about the yarn, I decided (after yet another bad day) that I needed yarn. So I present you: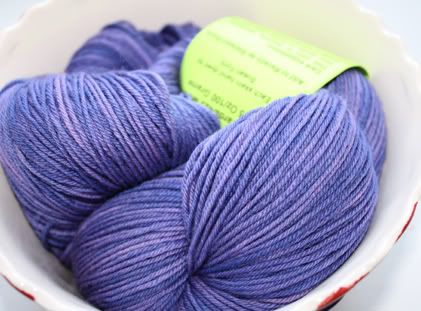 Stalwart Sock in "From Dusk Till Dawn".
Stalwart Sock in "Steelyard Blues".
The yarn is really, seriously beautiful AND soft. And from what I've seen on Ravelry, they make beautiful socks. Looking at those skein makes me happy. But not as happy as when I feel this: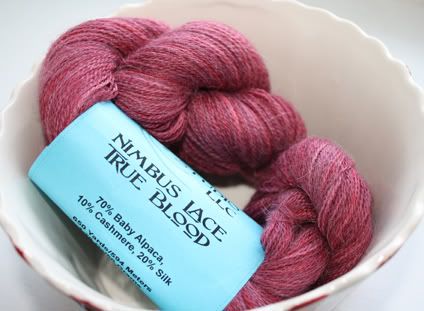 Nimbus Lace in "True Blood".
OMG! So soft! Of course, the fact that it's 70% baby alpaca, 20% silk, and 10% cashmere definitely helps making it soft. I love love love love it. I have 650 yards of it and I need the perfect project (a scarf, I'm pretty sure).
I've been obsessed with laceweight lately for some reason, but I've been adding the yarn to my stash without actually starting lace projects. That needs to change.
Oh and if you thought that wasn't enough yarn porn, it's not over. I got a big box from Knit Picks waiting for me at the post office (I had a 10% off coupon, I couldn't resist). Expect more laceweight. :)