Apparently, I only blogged ONCE in the whole month of March! Cray-zee. I know I've been out of the country for half of the month, but I could have still posted a bit in the two other weeks! I'll try to do better in April, promise!
Thanks to those of you who congratulated me on the new house! We're very happy, excited and scared (because of the OMG25yearsmortgage!) and we can't wait to move in in July. The "house" is actually a condo. We have the first floor of a duplex + basement. The frontyard and (tiny) backyard are also ours. And it's in the Notre-Dame the Grâce neighbourhood, which is a beautiful place, even though we are not *that* familiar with it. We can't wait to discover it though. It feels like we're moving in a whole other city and it's very exciting! But I'm going to miss being close to the Marché Jean-Talon and Effiloché!
But enough about the house, as this is a knitting blog, right? And I've been knitting a little. I'm almost done with a pair of socks: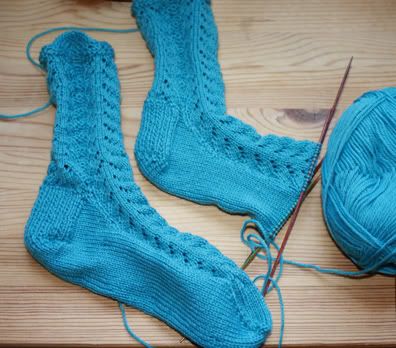 The pattern is "Ice Cream Cone socks» by Veronik Avery, from the Steppin' Out Too booklet. I'm pretty sure they're going to be a gift for my sister, but I may wait till Christmas to give it to her.
I've also been working on a scarf: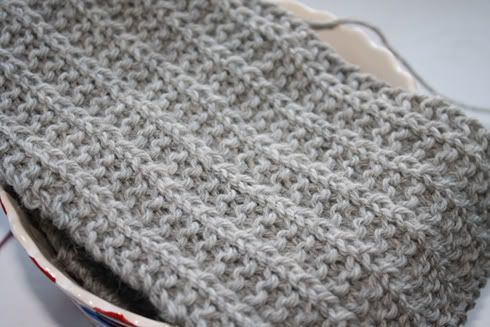 The pattern is the One Row Handspun Scarf by Stephanie Pearl-McPhee and I've used almost a whole ball of Cascade 220. I'm not sure how long I'll make it (I have another ball of the same colour). We'll see. I'm not too motivated to work on it right now since the weather is so nice.
I have, however, been hit by a bad case of startitis! As soon as I finish the Ice cream come socks, I'll cast on for a Cookie A. sock from Sock Innovation. I'm not sure which one... possibily Kai-mei.
I also really want to make me the Honeybee cardigan... Oh and a shawl! A little while ago, I was able to get two skeins of laceweight from
Tara
:
(Knit Picks Shimmer in Maple Leaf)
I wasn't sure what to make with it, so I browsed projects in Ravelry and I saw a beautiful, beautiful shawl made with this exact same colourway. And I already have the pattern. Soooo... I'll probably cast-on for it soon and tell you which one it is.
Speaking of Knit Picks, did you guys see their new Tonal sock and lace yarns? OMG! Semi-solid! Beautiful! Want!