My last post ended with a little bit of yarn porn and I'm now continuing where I left off. I got a big box from Knit Picks a few days ago, filled with goodies. I had gotten a 10 % off coupon and couldn't resist ordering. Wanna see?
First, I got a set of 2.75 mm Harmony DPNs. I love these needles so much, I already have three sets of the 2.25 mm but sometimes I need a little bigger so now I'm all set.
But I know you all really want to know about the yarn, right? Well here you go.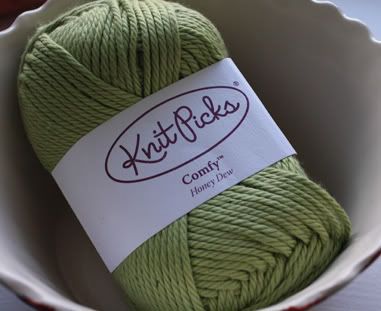 I got 8 skeins of Comfy Worsted in Honey Dew. My best friend is pregnant and due in November and I definitely want to knit her something. My first plan was to do something
like this
. But then I was browsing projects made with Comfy and I found
this
. I think we have a winner. I still have a long time to make this but I want to start on it ASAP so I don't have to do a knitting marathon in the Fall.
Ok, I also got this:
Stroll Tonal in Springtime. What can I say? I love me some sock yarn and it's new and I just had to see it in person. Very pretty and very soft.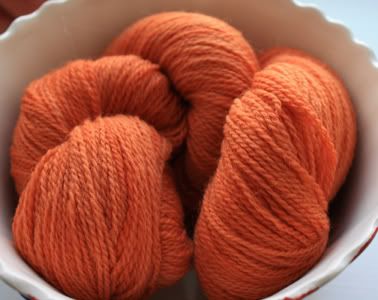 Shadow Kettle Dyed in Clementine (2 skeins). It's definitely not as bright (though it IS very bright) in real life, but I couldn't get the colour to photograph well. It reminds me of orange popsicle. You can see better pics of the colour
here
. That colour had been on my wish list for a while and when I ordered, I noticed it was now a "last chance" colour so I decided to buy it. Plus, I sort of have an obsession with laceweight these days.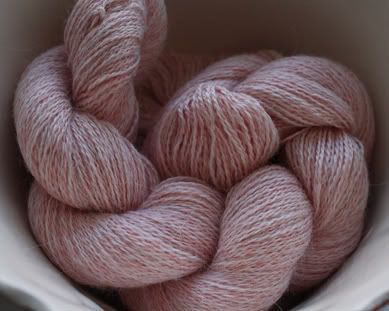 Alpaca Cloud in Peppermint. This was an impulse buy. The soft was calling me. So I put it in my cart. I do NOT regret it. It's beautiful and omg soft! In fact, my only regret is that I got only one skein, because after my order had shipped, I found
this pattern
that was made for this yarn, but it requires two skeins. Oh well. I'm sure I can find a cute scarf pattern that'll only use up one skein.
So, that's all for the yarn porn. I kind of felt guitly about buying that much, so I decided it was time for me to start a little yarn diet. No more yarn buying in 2010. Eeek. That's a long time! But with the house we just bought, I can't justify buying more yarn, I have more than enough to last me until the end of the year (and the next, and the next, but a girl's gotta indulge once in a while). I hope I can do it!