In one week we will finally be in our new home. OUR home. It's so exciting! Last weekend, we took a long walk in our new neighbourhood and I can tell we're going to love it. Especially the big park that is less than a 5 min. walk from our house.
As you can imagine, we are insanely busy right now, which explains the lack of blogging (and the lack of knitting). We're still not all done with packing (it will be done on the weekend) and I've been working lots of overtime too. I'm telling you, I cannot wait to be on vacation!
Last weekend, right before we left to go on our walk, I had the TV on at HGTV but I wasn't really paying attention to it. Then I looked up and saw this: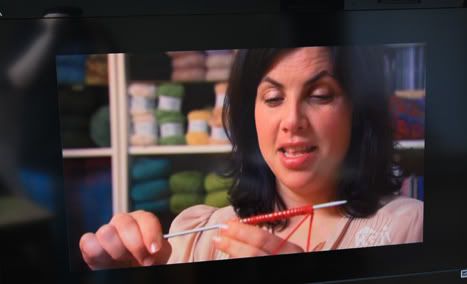 Knitting on TV! Hehe. It was a show called Kirstie's Homemade Home and she was in a yarn shop learning to knit I guess. I didn't watch much because we had to leave and it looked like it was beginner stuff anyways, but still it was fun to see!