I finally got around to buy fabric for the lining and the Chinese Charm Bag is finished! It's going to be a birthday gift for my mom (January 3rd). I still need to find an angel charm to attach to it, but I can say it's pretty much finished.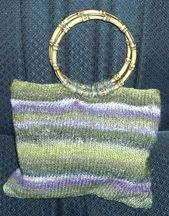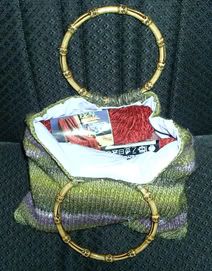 I couldn't find Noro Gemstones, unfortunately. I really liked the colours too so I was disappointed, but oh well. I think the Noro Silk Garden works pretty well to, don't you think? And I used less than two skeins! I bought three, so I may make a matching hat with the last skein.
I am really almost done with my sister's fuzzy feet. And the pink fluffy scarf is at an acceptable length, though my plan is to keep on knitting it until next Friday, when I'll give it away to a coworker. She posed (with a little piece of the scarf) for my article on knitting and she jokingly said that if I wanted to get rid of it, she would gladly accept it as payment for her services. Since I got her for our office's Secret Santa thing, I will be adding it to the gift I bought. How convenient! ;)
Yesterday I went to the LYS to buy yarn for the two other gifts I need to make. I got some Scheepjes Rigodon variegated in gray/copper shades. It will be a pair of fuzzy feet for my mom's boyfriend. And I got some Patons Shetland Chunky in black for a scarf. This one will also be a gift, but it doesn't have to be done by Christmas. I'm not sure what kind of scarf I'll make yet, either plain garter stitch or ribbed. Not sure.
This little trip to the LYS was also a big test of self-discipline. I completely fell in love with a skein of yarn that reminded me of the prism yarns (
like these
) except that it was something like 8-9$CDN a ball instead of 94$US! Of course, it's not the same thing at all, but I think it has a similar effect. Gorgeous thing. I just know that I will go back and buy it, even though I need another scarf like I need a "yarn addict" tattoo on my forehead. (Wait... maybe I do need such a tattoo! ;) ). But yeah. You're on a yarn diet or you're not. After Christmas, I may go back and buy it. But not before then.
Now that Christmas knitting is almost done, I can finally think of what projects I want to start during my holiday break (one week off, yay!). I'm thinking of trying for my first sweater, i.e. Stitch N' Bitch's To dye for sweater. I want to use the red yarn I got at La Bobineuse, but I'm not sure it will work well. It has no mohair at all in it, it's an acrylic/wool blend. But it's so damn gorgeous! Oh well. I will try and if it doesn't work, I will know soon enough.
Did I mention that I still can't find Stitch N' Bitch nation anywhere? I know I should order it online, but I don't want to put anything on my credit card for now. Being an adult sucks :p