So my first pair of socks is done!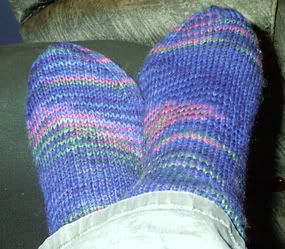 They're not perfect. They're too big (my fault for not swatching). But I still <3 them and I want to make more. And everyone is SO getting socks for Christmas next year (well this year... it just seems like next year).
***
In other news, my job is interfering in my knitting. :p Lately I've been working odd hours (not to mention long hours) and my schedule just doesn't agree with my LYS' schedule. And I need to buy yarn! Yarn to finish my sweater, yarn to begin Kyoto and yarn for my Secret Pal (though I don't know what to get her at all). Oh well. The good thing is that I'll be spending next weekend in Montreal (the first one since my mom got sick at the beginning of January. She's much better now so I feel ok spending a weekend here) so I should be able to buy then.
Oh and since I mentionned Secret Pals... it looks like I'll be getting something in my mailbox soon. Yay, I'm so excited! Thank you Secret Pal!