I finally finished To Dye For, with a different colour for the sleeves and the collar since I couldn't find more of the blue yarn: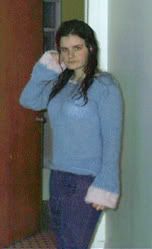 It is quite flawed and pretty unflattering but I still love it because, well, it's my first sweater! I may redo the crocheted collar because it looks weird.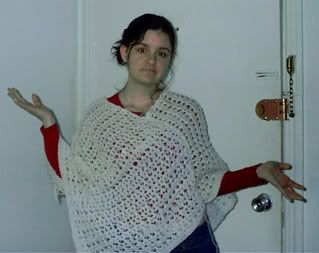 And this is the lacey poncho, that I finished after putting it on hold for a few months (well almost finished, I still need to weave in the ends). You can see the dyelot problem. It's even more noticeable in person. It's too bad because I really like it. So should I try dyeing it? The yarn is something like 70% acrylic, 30% wool. So I don't think I can Kool-Aid dye it. But fabric dye maybe? Will it work or will it totally kill it?
(the pattern is from
Chicknits
by the way)
So now I only have ONE project on the needles: Kyoto. I'll probably cast on for one or two more things since I like to have three projects going at the same time. I'm leaning more and more towards Phoebe from the new IK. Maybe a pair of socks too. Oh and there's always that Chinese Charm bag that I've frogged twice now. See, for some reason, the yarn keeps on twisting. I've used circulars plenty of times before and I've NEVER had a problem with twisting yarn before. But with this particular yarn (and these particular cheap needles), it twists as soon as I put my guards down. Maybe it's just not meant to be.