Last night I dreamed that I had finished my sweater and it was beautiful. I was so excited that I wore it right away and went to work. When I got there, I realized that I had forgotten to weave the ends in. Ooops. :p "Ehh... it's part of the design!"
***
I always have a list of "Things to knit next" in my head. Right now, among the things I want to knit soon, are a modified Chinese Charm Bag, the Klaralund sweater, a scarf made of gorgeous yarn that I will buy sometime soon and a yoga mat bag.
But often, instead of starting one of these million of projects that have been in my head for quite sometime, I impulsively cast on for something else. I did that last night. I used this gorgous blue yarn that I got at La Bobineuse: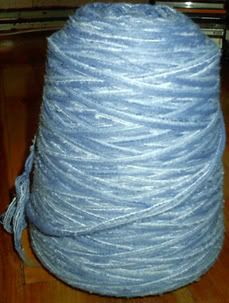 And I started a shawl using the
KnittingGeek Shawl Workshop
.
The yarn is bulky so it's not a fancy shawl but it's incredibly soft and will hopefully be warm. I plan on using it at work where I am *always* cold, even in the summer. I'm using Size 15 needles. I was able to get quite a bit of it done last night (it knits up very quickly as you can imagine), but I'll have to wait until I get my Denise to continue, as I don't have long enough needles to go on. I should get my set sometime next week I think.
***
Gryffindor beanie is currently blocking. That yarn (100% merino, unknown brand) soften up quite a bit when it's washed.
***
Now I need to stop blogging and tidy up the appartment. I've made room to store my mini-stash in the living room (it's all over the place in bags right now). I'll eventually need to buy some baskets or boxes or something. I love yarn. Yes, I do.