Woohoo, I got my Secret Pal name! Yay. Now I just need to investigate to figure out what to give her. Hehe. :p
And if the person who has my name is reading this, here's the little survey we had to fill out:
1. Are you a yarn snob? Do you avoid Red Heart and Lion Brand? Or is it all the same to you?
While I do prefer natural fibers, I am NOT a yarn snob. I knit with everything, as long as I like the colour and texture of the yarn. Red Heart is not my favourite brand but I don't avoid it. And we don't really have Lion Brand here, except for fun fur (which I'm not a fan of).
2. Do you spin? Crochet?
I don't spin (maybe someday!). I'm trying to learn to Crochet. I've made a pair of slippers so far (which you can see in a previous post).
3. Do you have any allergies? (smoke, pets, fibers, perfume, etc.)
I'm allergic to pets (*cries*), cigarette smoke, the ocean (weird I know) and band-aids.
4. How long have you been knitting?
For about a year, but the obsession began last summer.
5. Do you have an Amazon or other online wish list?
No! Maybe I should get one!
6. What's your favorite scent? (for candles, bath products etc.)
Hmm. Cucumber melon. Pumpink and spice. Fruity stuff.
7. Do you have a sweet tooth?
Yeah but I'm always on a diet.
8. What other crafts or Do-It-Yourself things do you like to do?
Well like I said, I'm trying to learn how to crochet. I'm also trying to finish my travel scrapbook. I love photography. And I want to learn how to sew someday.
9. What kind of music do you like? Can your computer/stereo play MP3s? (if your buddy wants to make you a CD)
I love Tori Amos, Björk, Howie Day, Placebo, The Dresden Dolls, Beck, Rasputina, Franz Ferdinand, FrouFrou and a bunch of others. Lots of French-Canadian artists too (Yann Perreau, Stefie Shock, Daniel Bélanger, Jorane, Dumas and many more). And yes, I have mp3 players.
10. What's your favorite color? Or--do you have a color family/season/palette you prefer?
This is difficult to answer because I love colours and my favourite ones vary constantly. I love reds, pink, purple, blues. I love green but it doesn't look good on me so I never wear it.
11. What is your family situation? Do you have any pets?
I live by myself. I visit my mom and younger sister every weekend these days because my mom was sick recently and I want to take care of her. As I mentionned, I'm allergic to pets so I don't have any.
12. What are your life dreams? (really stretching it here, I know)
Happiness? Maybe to be able to get close to people.
13. What is/are your favorite yarn/s to knit with?
I love Noro yarns. But I need to try more nice yarns before I can decide on this one.
14. What fibers do you absolutely *not* like?
Scratchy yarns. No fibers in particular.
15. What is/are your current knitting obsession/s?
Bags. Scarves and hats. And I'm obsessed with just about a million projects.
16. What is/are your favorite item/s to knit?
Bags
17. What are you knitting right now?
I'm finishing a lacey poncho, a pair of socks (my first socks!), the To Dye for sweater (I just need to buy more yarn)
18. What do you think about ponchos?
I'm probably one of the few knitters who actually think they're cute.
19. Do you prefer straight or circular needles?
Both
20. Bamboo, aluminum, plastic?
I dislike plastic (except for my Denise). I like metal. I want to try bamboo.
21. Are you a sock knitter?
I'm on my first pair but I love it. It never gets boring!
22. How did you learn to knit?
I learned the basics with a "I taught myself how to knit" kit that I got at Wal-Mart. I learned the rest with Stitch N' Bitch and online.
23. How old is your oldest UFO?
I started it at the end of June 2004 and I'm not sure I'll ever finish it. It's an illusion scarf.
24. What is your favorite animated character or a favorite animal/bird?
Animated: I like Emily the Strange, Daria and Betty Boop. And the Simpsons. My favourite animals are cats. I love them. But they make my throat close.
25. What is your favorite holiday?
Christmas
26. Is there anything that you collect?
Postcards
***
I decided to FROG the blue shawl. I just don't really like it. I think I want a fancier shawl. Something like Madli's shawl from IK. I just need to get the yarn.
Right now there are so many things that I want to make that I end up not starting anything. It's probably a good thing since I already have a lot on the needles.
I finish my friend's scarf, which is "Mom's Sophisticated Scarf" from Stitch N' Bitch Nation. I adapted it for bulky yarn, so it's not exactly the same. I really like the way it came out and it's very soft. Unfortunately, you can't see the details well on the picture.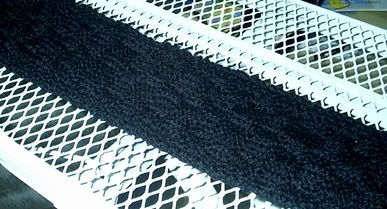 I'll be sending it to her this week. She doesn't know she's getting it. She's always been there for me and she's so nice to everyone, I think she deserves a little unexpected gift :)
I also took the lacey poncho out of the bag it's been sleeping in since November I think. I think I have nine pattern repeats left to do on it. I can do it.
And I began sock #2.
That's all for today Caroline's wonderful world of knitting.