The Tsunami Relief Challenge is over! Thanks to everyone who participated. The final total is 507$ + one undisclosed amount. YAY! You all rock. :)
Of course, I'm sure you all want to know who's winning the Noro, right? Ok, ready?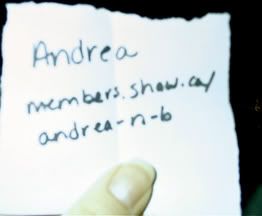 Congratulations to
Andrea
! (I'll get in touch with you sometime tomorrow as it's getting very late and I need to go to bed soon).
***
Here's a pic that shows some recent purchases: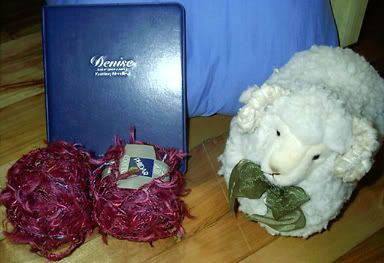 As you can see, I finally got my set of Denise, after months of wanting them! Yay :) I adore them. You can also see the yarn I've been lusting over for some time now, Phildar coquine. It's so cute. I'm going to make a scarf out of it. And last, my new little stuffed friend. I just couldn't resist when I saw it in the store. It was only 10$CDN, and half of it went to the Red-Cross. A good deal, I tell you.
You can see it wearing my Gryffindor beanie here (I look like hell right now so there's no way I'm modelling it myself):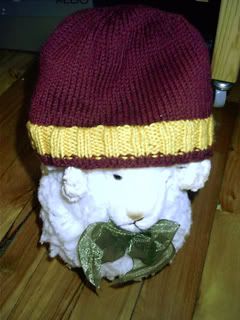 And you can see here that I've already put my Denise to use: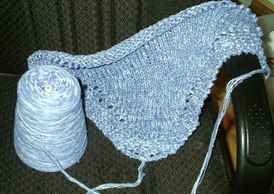 A shawl I'm working on with yarn from La Bobineuse.
***
I went to
Mouliné
today, hoping to find some Noro Silk Garden. See, I lost my Silk Garden beanie at the hospital. *cries* I loved that hat so much. Unfortunately, they don't carry it. I still have half a skein left and I need only one skein for the hat. So if anyone has a half-skein of colour 34 lying around and you want to get rid of it, let me know :) (Only if you have leftovers though, if you have a whole skein, make the
Hat
for yourself, it's lovely.)
So yeah, I went to Mouliné and even though they didn't have what I was looking for, I didn't come out empty ended, oh no. It's a good thing that the store isn't close to where I live, or I'd go broke. It has sooooo many luscious yarns, I wanted to buy everything. I didn't though. But I got some Irish wool as well as lovely sock yarn, which I shouldn't have bought.
Why not?
Because I'm almost done with my first sock: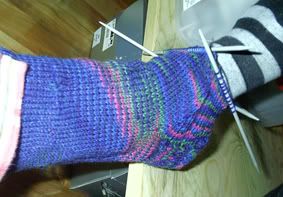 Made with cheap Bernat Sox. It's cute. But how on earth will I be able to make the second sock with the Bernat when I have the other cute new (75% wool) yarn? Self-control, Caroline, self-control.
***
PSA
The girl in charge of
Secret Pals 4
is looking for French speaking participants. There are some people from France who are participating and their blog is all in French.
***
Montrealers:
The Indigo bookstore on Sainte-Catherine street has their Suss Kit at 75% off. They usually go for 30$CDN. Now I'm not a fan of the patterns, but they all come with yarn and a pair of Size 9 bamboo needles. The purse one also has handles and there are some kits that have ribbons I believe. I don't think I'll buy any, but I figured some of you could be interested.
Ok I think that's all for tonight!