I'm home, sick with the flu. I was too tired to post yesterday so I'm giving you this late WIP report.
I've been in a knitting funk lately. I like all the projects I'm working on, but they don't interest me as much as... everything else I'd like to knit! I'm itching to start new projects, but I want to finish some of the current ones first. I keep on working a little bit on every project, so everything progresses, but slowly.
I've worked some on the neverending Woven Trellis scarf. I haven't measured it or taken pics, but I probably added 5" to it since last week. I'll probably work on it tonight while watching HEROES (woohoo!!!!).
I've added a pattern repeat to Shedir, and all I have to show for it is this blurry pic: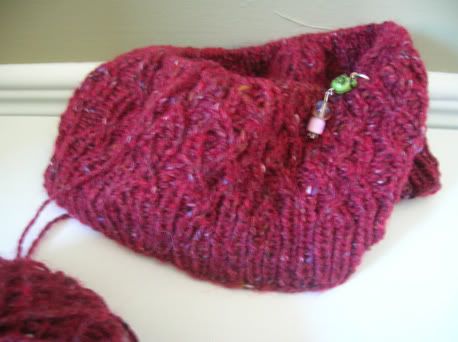 It's going to be a beautiful, but a little scratchy, hat.
I've also finished the first Marina Piccola sock: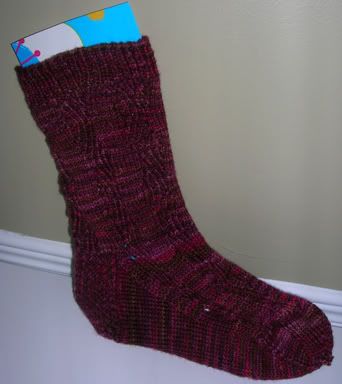 Again, the pic is not too great. I wish I could take better photos but I don't have that talent it seems.
I haven't bought any new yarn/knitting books/accessories this week, but I have been oh-so-tempted. With the fantastic exchange rate (the Canadian dollar is pretty much equal to the US one right now), I would have a lot of yarn for my money. I filled my Knitpicks cart but I signed off before I bought. I did the same at Blue Moon Fiber Arts (someday I'll try some Socks that rock... someday). I'll buy more yarn when there's more room in the yarn closet. Or not. We'll see.