Hello all! Before I talk about the knitting stuff, let me tell you I've had a very painful weekend. Last Wednesday, I began to feel pain in my right shoulder. A few hours later, the pain went up to my neck and down to my arm. Thursday, the pain was still there. Friday too, worst than ever. Saturday, I finally decided to go see a doctor. It looks like it's a pinched nerve. He prescribed some pain killers and something that "relaxes" my muscles. Unfortunately, it also makes me want to sleep real bad. I can tell you work was no fun today!
Because of that, I knit a little bit less than usual (though I don't think the pain is knitting-related). But I still got some knitting done. I have close to 12 inches done on the second tube of the Woven Trellis scarf and my Shedir hat is a little bit bigger.
I also cast on for
Marina Piccola
and knit one full pattern repeat: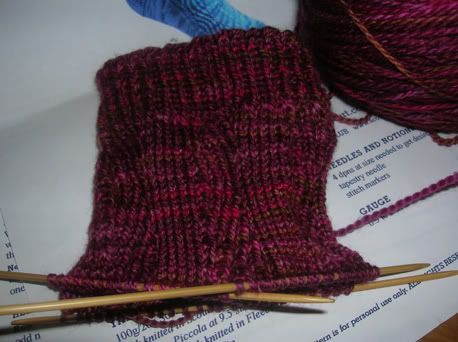 I'm using Fleece Artist merino (LOVE!!!). The pattern is great too, though I kept on making stupid mistakes at first. I really hope I can finish them before the end of the month, for the Sock a Month knitalong. We'll see.