So we had the first big snowstorm of the season today. It was wonderful. I know, not everyone thought so, but since I don't drive, it didn't affect me as much. I thought the snow was beautiful. I just hope it won't all melt before Christmas!
I'm not going to talk about WIPs this week. My boyfriend bought Guitar Hero for the Wii last week, and let's just say I feel like I sold my soul to the videogame. Christmas knitting? What Christmas knitting? Look, I'm playing My Name is Jonas!
Despite the lack of knitting, I have some fibery goodness to show you. I got a package from my Secret Pal and it was better than anything I could have expected!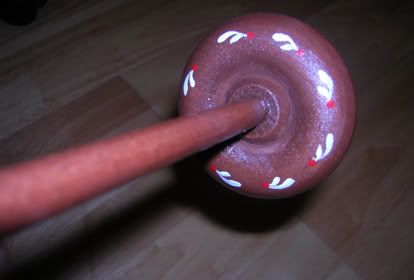 My very own spindle!!! It's beautiful and I've always wanted to learn how to spin! Oh but wait, there's more.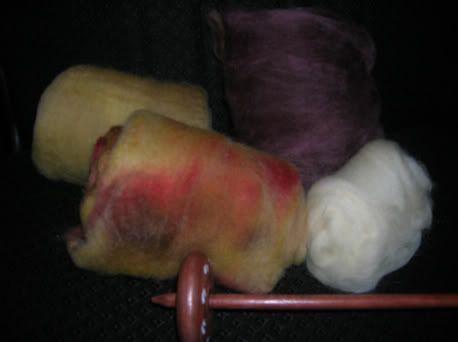 You can't spin without fiber! The spindle was actually part of a kit and it comes from
Maine Woods Yarn & Fiber
and I love the colours.
Now I just need to figure out how this all works. Hopefully I'll have more time to learn after Christmas. THANK YOU SECRET PAL!!!
In other news, as I mentionned in my previous post, I turned 30 today. I gotta say that today was pretty uneventful. My real birthday celebrations happened on the weekend. On Friday, I had a party with friends (including one that I hadn't seen in over a year!) and on Saturday, I had one with family. I had a great time. My mom made me a scrapbook (it was her first one) and it's probably my favourite gift... that and my new iPod. I love it I love it I love it. And my boyfriend got me a set of speakers for it so it will be great when we have people over. I also got a few gift certificate including these:
Sorry the pic is so blurry. They are
Effiloché
gift certificates! I'll be able to buy some yarn! Woohoo!
Finally, another great gift was a picture that my friend took when he went to Chile this Fall and that he got framed. I love it and it made me want to make something for him. Like a hat. His birthday is on December 27 and my new goal is to finish my boyfriend's scarf and then make a hat for this friend. I need pattern ideas now!