Hello readers! Today is a snow storm day. Since I don't drive, I love snow storms! I especially love to knit during a snow storm. So I did some knitting this morning and I have a fabulous WIP to show for it.
But before we get to the WIP, here's a FO:
Pattern
: I cast on 48 sts and did a 2x2 rib until I ran out of yarn.
Yarn
:
Misti Alpaca
(100% baby alpaca hand dyed, worsted weight). LOVED the yarn. It was incredibly soft.
Needles
: 4.5 mm (US7). I used my Knitpicks options.
The scarf was supposed to be a Christmas present for my boyfriend but he was so impatient to get it (and it's cold outside) that I gave it to him right away. He loves it I think.
Ok, now the WIP. I mentionned a few posts ago that I wanted to make a hat for my friend's 30th birthday. After looking for the perfect pattern, I finally chose the
fake isle hat
.
I love the look of the hat in Noro, but I'm not a fan of the scratchiness of the yarn so I wasn't sure I wanted to use it. It's not *that* scratchy (I've used it for hats before), but some people are more sensitive than others so I preferred not to use it for a gift. So I considered using solid yarns. I saw some solid Fake Isles on Ravelry and they looked good, but I still wasn't sure.
Then I found solid yarn that were exactly *him* so I thought what the heck, let's try it! Boy, I'm not regretting my choice, I'm LOVING the result!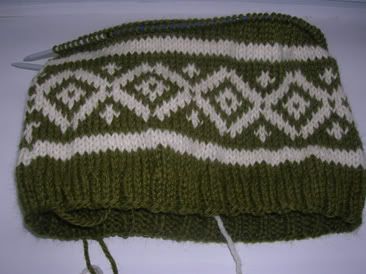 What do you think? The yarn is "Warani" and it's 50% suri alpaca, 50% extra fine merino wool. It is SO SOFT! I'm now at the point where I should be starting the second chart with the white/cream yarn, but I think I'll just keep knitting with the green. I like it the way it looks now.
I'll probably finish the hat this week and then I'll be knitting for MOI only for the next couple of months!