Aaaaah. Christmas eve! The decorations are up, there's a sugar pie in the oven, presents are under the (mini) tree... and I'm going to work in an hour! *cries*
I'll be all right. There are a lot of people who have to work tonight. Doctors. Taxi drivers. And me.
I've been in a knitting funk this week. I started the LaLa mittens and the pattern just wasn't right for the yarn. That and I didn't like the fabric I had with 4mm needles. So I frogged and cast on again with smaller needles. I didn't really use a pattern (though I did cast on the same amount of stitches than the Lala pattern required), I just knit by ear. And I really like the end result. A mitten!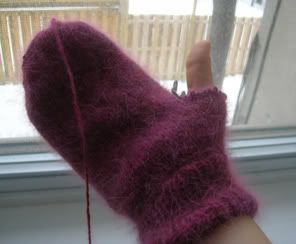 Ok so there are still ends to weave in. And a thumb would be nice too. But I'm almost done.
Merry Christmas to everyone who celebrates it!