Pattern
:
Fake Isle Hat
, from
Magknits
Yarn
: Warani (Susan Andrew Collection). 50% Suri Alpaca, 50% extra fine merino wool. I bought it at Ariadne** and I was told the green was being discontinued so hurry if you want some!
Needles
: 4mm (US6) 16" circular (I used my Denises) and DPNs in the same size.
Modifications
: I used solid yarn instead of the Noro. And I chose not to do chart B at all because I didn't want too much white. I think it looks great. I am so pleased with that hat! And I had bought two balls of the green but I only needed one and I have more than half of the white left over so I will be able to make another one!
So I am now DONE with all my gift knitting! Yay! This year, I'm giving:
-A scarf to my boyfriend (already given)
-Socks to my mom
-A scarf to my mom
-Socks to my sister
-Socks to my stepdad
-A hat to my friend (technically for his birthday, not Christmas)
And since it's all done, I am now free to knit for myself! And I'm starting with a pair of angora mittens: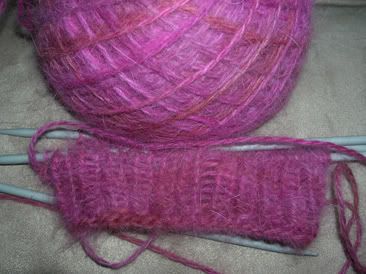 The pattern is Lala's Mittens (
pdf here
). I'm not sure how the cable will look in the fuzzy yarn, but we'll see.
**Those of you who had trouble finding the address for Ariadne's store, it's in the blog section of the
website
. They are probably too busy with the store to update the site and add the address on the main page. The store is at: 3837 Rue St. Jacques Ouest, Montreal. It's close to the Place-St-Henri metro station.