It's Friday! Yay! AND, I'm adding something new to my food posts: PICTURES! Now, I'm no food photographer. If you want pretty yummy pics, check out
Smitten Kitchen
,
Coconut & Lime
,
Confections of a Foodie Bride
or some of the other beautiful food blogs out there!
Oh and I can't promise there'll be pics every week, but I'll try! Now let's look at them resolutions!
Meatless Monday
I had a lot of ideas for lunch, but when I went to the grocery store on Sunday, I couldn't find some of the ingredients I needed. So I ended up with a frozen dinner from Le Commensal. Funny, I used to love them a few years back, but I really didn't enjoy it this time. Oh well.
Dinner was easy, I made vegetarian pizza!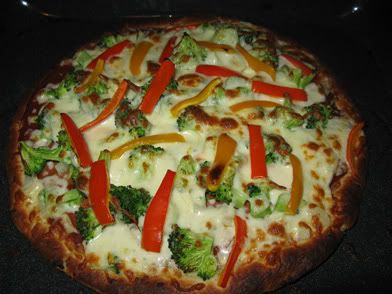 The crust is flatbread that I got at the grocery store. I used mock pepperoni and veggies (I remember onions, lots of broccoli and red and yellow peppers). I froze the leftover vegetarian pepperoni, but I will most likely make another pizza next Monday. It was yummy and I love pizza.
Slowcooker
I made pork that was cooked in cider. There were lots of veggies in there, as well as apples, thyme and bay leaves.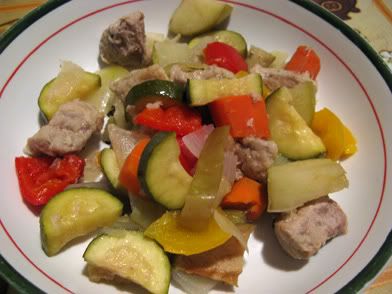 Honestly? It wasn't that good. I mean it was ok. The pork was tender and I like all the veggies. And I always like using fruits in recipe. But it lacked some flavour. Chris suggested we add more spices next time we make it, but I don't think there will be a next time.
Trying new recipes
The pork, above, was a new recipe!
New recipes made this year: 5
Cooking from my cookbooks
Again, the pork mentionned above was from a little cookbook I have, called "
Je cuisine... plats mijotés
".