I usually write a post about my knitting accomplishments at the end of each year. I didn't have time in December so I'll do it now.
In 2009, I knit 18 projects, mostly small ones. My favourites include the Cable net socks:
The Waves of blue baby blanket: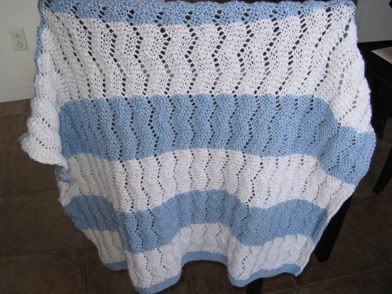 And my Froot Loop socks:
.
During the year, I knit 8 pairs of socks, 5 hats, 1 pair of mittens, 1 baby blanket, 1 shawl, 1 Christmas stocking and 1 neck warmer.
Still no sweater, but all in all, I'm pretty satisfied.
I've also made a few knitting resolutions for 2010.
1. I need to make a sweater. I suck at seaming and I have yet to make a sweater I was satisfied with, but I'm hopeful I'll succeed this year. We'll see.
2. As much as I love joining KALs, I need to choose my commitments carefully. KALs are fun but when I join too many of them, I get overwhelmed and that is usually when I start to lose my knitting mojo. That is why I decided to give up on the Hat Trick KAL this january. I'm already knitting two pairs of socks for another KAL, that's enough for this month. Next month will be the Knitting Olympics and I'll want to join that for sure.
3. I'm on a sort of sock yarn diet. My objective is to knit six pairs with the yarn I have now before I buy anything new. I know I can do that. I already have two pairs on the needles.
4. I'm also on a knitting book diet. I mentionned in my last post that I've been wanting some new books lately but that I hardly ever knit from the ones I own. I've made a list of some of my favourite books and I decided I'm not buying a new one until I've knit at least one pattern from each of them. Here's the list: Knitting Vintage Socks, Folk Socks, Sock Innovation and Latvian mittens as well as two booklets:
Steppin' Out
and
Steppin' Out Two
. Yes, I'm aware all but one are sock books. :) And I've already made two pairs out of Steppin' Out but I really should make more because it's a nice little booklet.
Now, here's a pic of a sock in progress I started on January 1st (yes, they're for a KAL). They're a mystery sock pattern so I have no idea what they'll look like.