I finished my sexy Coachella: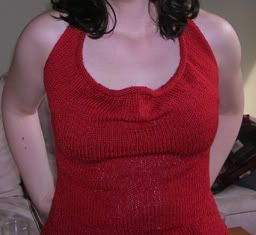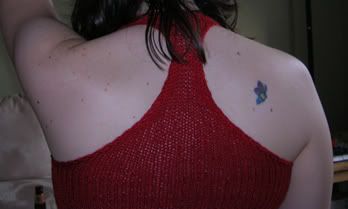 Pattern:
Coachella from Knitty
Size
: S
Yarn:
Schachenmayr Nomotta Micro
Needles:
Two sets of circulars, size US6 and US8 (I used my Denise set)
Modifications:
I chose not to do the short rows on the bust because a lot of people who did them said that the cleavage area went way too low. I didn't want that. I also added some ribbing at the bottom because I didn't want a rolled edge. And I added more increases for the hips (5 instead of 3) and probably could have added 2 more (I have big hips).
I'm very happy with it. It was quick and easy. Oh and no seaming. Yay!
I bought the new Vogue Knitting yesterday and I love it. It's the 25th anniversary edition and it's a beautiful issue. Of course, I don't like all the patterns (I dislike many of them in fact), but I love Veronik Avery and Debbie Bliss' "cover patterns" (there are a bunch of covers under the real cover). They also have a lot of interesting looking articles, though haven't had the chance to read them yet. There's one on "Fits that flatter" that I'll try to read today.
Now working on: socks for my mom, the masalat scarf that was put aside while I worked on Coachella and Kiri.