Here's another FO for you: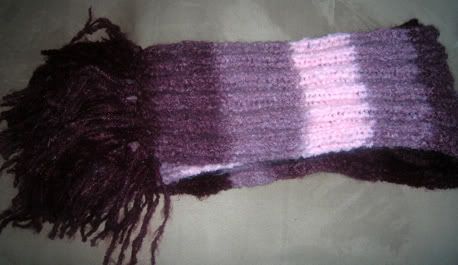 For some reason, I could not take a good picture of it (I feel like I say that for every picture I post here).
Pattern
: I used the "pattern" that was on the ball band, but it's really just a 2X2 ribbed scarf with a fringe.
Yarn
: Bernat Masala, a bulky acrylic.
Needles
: Knitpicks options circular, size 10½ (6.5 mm)
Comment
: Argh! I hated that yarn! My mom gave it to me last Christmas and hinted that she'd like it as a scarf and I was tired of seeing it in my stash so I cast on last month. But the yarn hurt my hands while I knit so I dubbed the scarf the Hurtful scarf. Ouch! That being said, I really like the colour and the scarf itself is pretty soft. I know my mom will like it.
I will probably start a new project soon. Probably the Woven Trellis scarf from last winter's Vogue Knitting. I expect a pretty boring knit but a beautiful scarf.