I went to
my LYS
, just because I felt like it and to see if I could find something for my Secret Pal. I did find something really lovely, but I can't show you in case she reads this.
I was also looking for yarn to knit a scarf for my boyfriend. I fell in love with
this one
, but I couldn't find the exact same colours of Noro Silk Garden. I could have opted for other colours, but they all seemed a bit too girly.
So I was looking at the (very soft) Misti Alpaca and then I noticed a sample (unfinished) scarf in the store. It was very simple (a 2X2 rib) but it was so beautiful and soft. So I decided to make one and bought the yarn: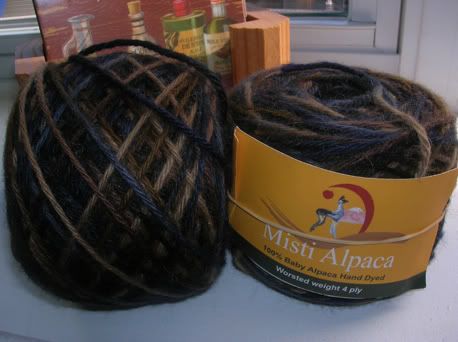 I showed it to my boyfriend and he likes the colour. Plus, it goes well with the hat I made him two years ago.
I don't know when I'll cast on for the scarf. I just started the Woven Trellis one for myself. I have about 15" done on the first little tube. It's a very easy and boring knit, but it's a great project to work on while watching TV or a movie. And the yarn I'm using (Berroco Ultra Alpaca) is so soft!