I'm having a lazy day. I did go out grocery shopping this morning, but other than that, I've just been wasting time online and watching the news on TV. I needed that after the past two stress-filled days at work. I work at 4pm tonight but I don't expect any stress, which is good.
I promised you a pic of the finished mittens, so here they are: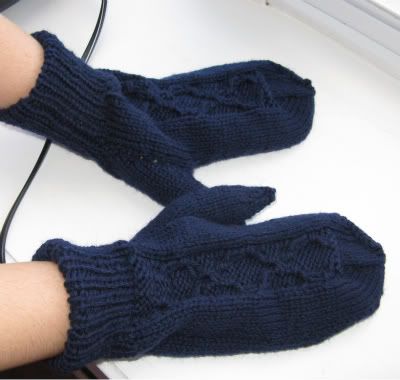 Pattern:
La La Mittens
, by Gina House
Yarn
: It was yarn I had in my stash and I lost the label, but I think it was Plymouth Yarn Galway Worsted.
Needles
: US 5/3.75 mm
Modifications
: I didn't read the abreviation part of the pattern and I realized only after I was almost done with mitten #1 that I didn't do a few things correctly. I didn't mind much anyways.
I'm sorry about the bad pic, Chris took many but navy blue yarn can sometimes be difficult to photograph. The mittens will be my sister's Christmas gift.