Ready, set, go!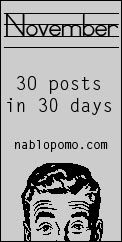 So, as I said, I'm gonna try this "blogging daily for a month" thing. But please, don't expect long, insightful posts. It's not my style. Most of them will be silly or boring "here's what I did today" type of posts (I say boring because my life is pretty boring in general).
I figured I'd start the month with a glorious FO! Therefore, I present you the Bird in Hand mittens: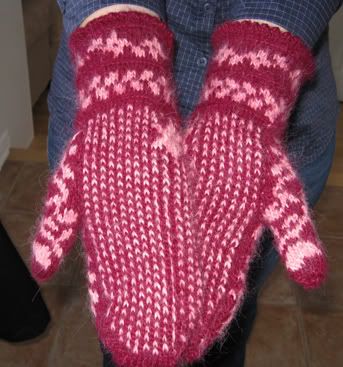 Aren't they beautiful? They're so warm too. I love them!
Pattern
:
Bird in Hand
, by Kate Gilbert.
Yarn
: Frog Tree Worsted Alpaca (yummy!)
Needles
: US 2 / 2.75 mm
Modifications
: As you can see, I didn't do the embroidery on the little birdie. Maybe I will, I just don't feel like it right now.
I already started another pair of mittens. I'll tell you all about it... tomorrow! (Hey I have 29 more days of blog writing ahead of me, I need to save some blog fodder!)