Remember when I talked about suddenly wanting to knit Christmas gifts, even though I had said I wouldn't knit any this year?
Well right now, I'm knitting Christmas gifts and suddenly wanting to knit something else, anything else, something for me. And I haven't even been knitting big Christmas gifts like some of you have. I'm guessing the boredom may have something to do with this: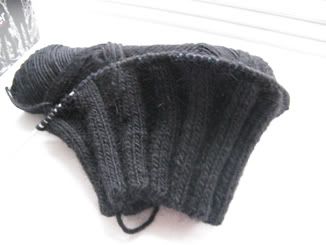 The boy hat. I know he'll like it, but it's boring. And there's a reason I hadn't posted a pic before. It's just a black blob.
I'm not working tomorrow and Tuesday, so I'm hoping I'll be able to finish it by then. After that, I just may have to go to a yarn store to find the material for mom and stepdad's gifts. I promise I'll look in my stash first, but I doubt I'll find anything.