November 25. We are exactly one month away from Christmas! Eeeek! I so don't feel in the Christmas spirit yet. I'm sure it'll come once we start decorating and once I get back to regular work schedules and all. It will also be my birthday in about a week and everyone is asking me what I want for Christmas AND my birthday and really, I have no idea. I know I could ask for yarn money, but to be honest, I still have one gift certificate I have left from LAST YEAR. I'm trying not to accumulate too much yarn, due to the lack of space in our appartment.
Anyways. One month left before Christmas and I'm far from done with the Christmas knitting. I know I'm in a better position than many, but you have to remember that I'm a slow knitter. And the mittens I've chosen for my mom... well let's just say choosing thin yarn with small needles maybe wasn't the best idea for me ;) But I like how they're coming along and I'm sure I can finish them in time. Here's where I am right now: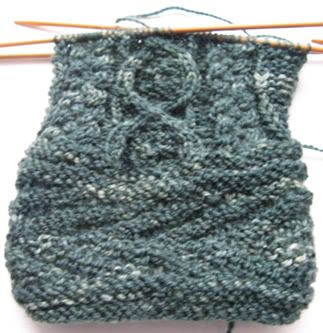 I wasn't sure about the yarn at first because I find that it doesn't show patterns as well as other yarns, but I still like the way the mittens look. The yarn doesn't photograph well though, I couldn't get a nice pic of the WIP! But trust me, it looks great so far. The pattern is fun and definitely not boring. I gave myself a goal of at least 10 rows a day (it doesn't sound like much, but with all the symbols on the chart, it takes me quite some time). I'm hoping to finish on or before Dec. 15, so then I'll have 10 days to knit the hat for my stepdad, which should be plenty.
I've already knit 9 rows today, so I'm sure I'll go over my goal tonight. Go me!